Karur Vysya Bank is a private and scheduled commercial bank having its head office in Karur, Tamil Nadu. The bank mainly runs its operations in various banking segments, such as corporate banking, wholesale banking, retail banking, and treasury segments. Moreover, it provides a lot of financial services, such as personal, corporate, and agricultural banking services, to NRIs and MSMEs, which include: offering bank account details, account balances, and Mini statements to its customers.
Talking about mini statements, if you have an account with the Karur Vysya Bank and are eager to know your transaction history through mini statements, this article will cease your search. For the unversed, we have described what a mini-statement is. So without wasting any time, let's know about the mini statement, its purpose, and how it can help you check your transactions.
About Bank Mini Statement and its Features
The bank mini statement is a shortened version (the last three transactions) of a bank statement. Following are some benefits and essential features of a mini statement, such as:
It helps you to quickly see the latest transactions of money that are credited to your account and the money that has been recently withdrawn from the account.
To avail of the Mini Statement Services, your mobile phone number should be registered with Karur Vysya Bank to receive SMS alerts.
A mini statement can be received through SMS service using any type of mobile phone. There is no need to use a smartphone for it.
A mini statement can be received by giving a missed call to the KVB mini statement number.
Mini Statement Services are accessible anytime, anywhere, and 24×7.
These services are not chargeable by the KVB bank.
It is an easy and hassle-free service.
As you can generate Karur Vysya Bank Mini Statement in many ways, stay tuned to read on to know about the easiest way of them in detail.
Karur Vysya Bank Mini Statement Number
If you have a Savings Bank Account or a Current Account with Karur Vysya Bank, sometimes, you may need to view and check the most recent transactions to keep track of your bank account. To do so, you should know how to generate a mini statement of your bank account. Karur Vysya Bank offers you to use its Missed Call Number facility for this purpose.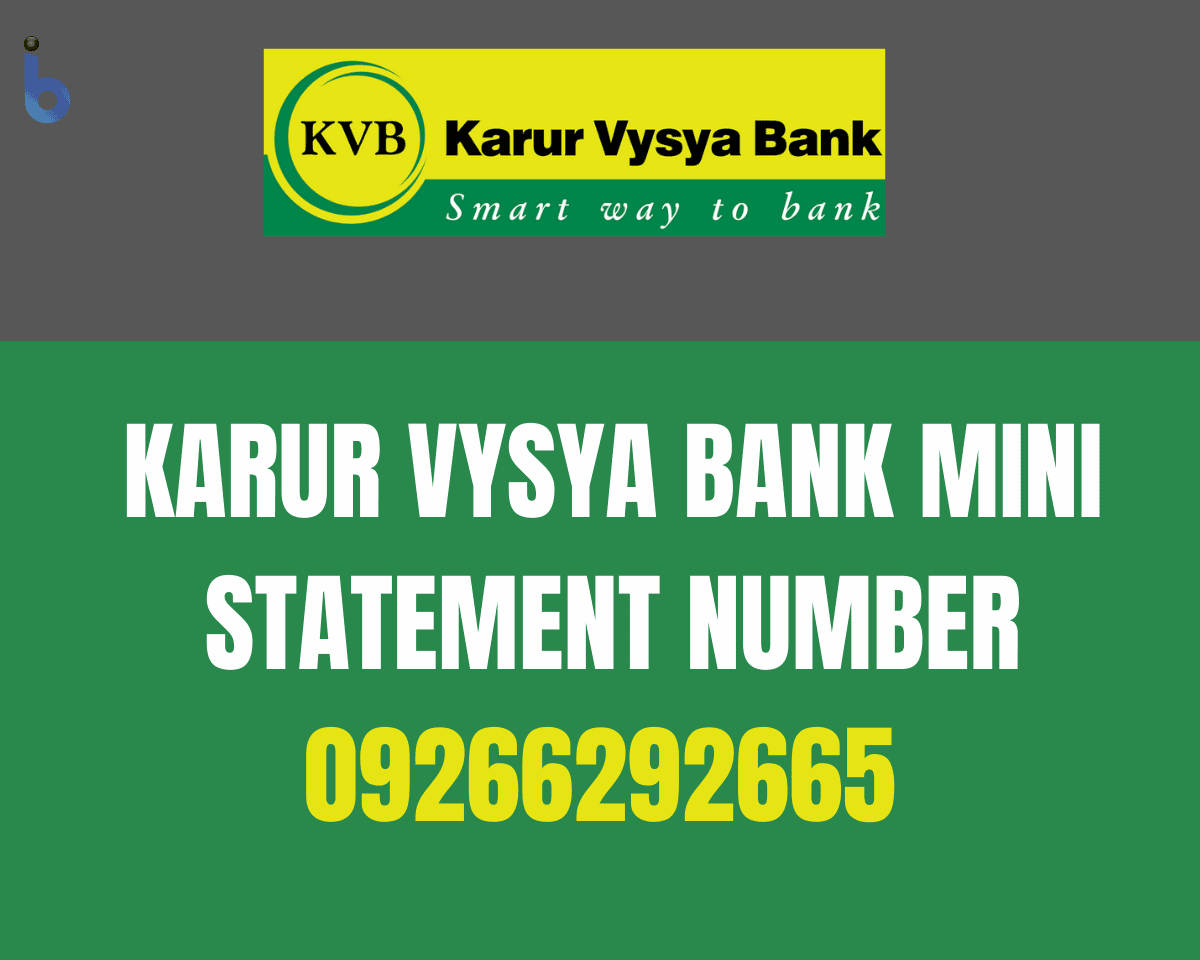 Stay tuned with us and just follow the below-described step-by-step simple and easy instructions to help and guide you through to get the mini statement, such as:
Open your mobile phone and make a missed call at 09266292665 from your mobile number. Your mobile phone number should be registered with Karur Vysya Bank for the SMS Alert services.
Your mobile call will be automatically disconnected after ringing two or three times, and you will immediately receive your mini statement through an SMS text message on your mobile phone from Karur Vysya Bank.
In this SMS text message, you will see the last three transactions in your account.
That's all in this post. By reading this article, you can quickly generate your mini statement with the help of missed call method using the mini statement number of Karur Vysya Bank, i.e., 092662 – 92665. To get KVB last 5 transactions, you have to download the account statement through mobile or internet banking.
Services
Contact
KVB mini statement missed call number
09266292665
KVB Balance Enquiry Number
09266292666
KVB Helpline Numbers
Helpline (Domestic): 18602581916
Helpline (Outside India): +914466217600
Email
[email protected]
To Wrap Up
Hopefully, after carefully reading this article until the end, we can expect that you must have quickly learned how you can generate to see, view and check your mini statement with the help of missed call method using the KVB mini statement number.
However, suppose you are still facing some difficulties or issues or complaints regarding generating a Karur Vysya Bank mini statement, or you have grievances or complaints for another reason. In such a case, you should contact Karur Vysya Bank helpline numbers,
For Domestic customers: 18602581916. Pl. note that this is not a toll-free number, and local charges will be applicable for this call.
For customers outside India: +914466217600.
You can also contact the Karur Vysya Bank customer support team by writing your complaints and grievances at their email address: [email protected]. Your issues will be shortly taken up to help you and guide you appropriately and satisfactorily.