Do you have an EPF account? Every person working with a registered company or organization has an EPF account. You must have come across the term UAN if you have an EPF account.
EPFO India provides UAN or Universal Account Number which is a unique 12-digit account number. EPFO identifies the employee through the account number until the person retires from the company.
The UAN number acts as an umbrella securing the employees with more than one Provident Fund numbers allotted while changing the company or organization.
You can receive the PF without any troubles using the UAN. To log in your account successfully, you have to activate your uan online.
While checking the EPF balance or UAN passbook, you might come across an error! The screen shows 'Error! UAN Password not Available'. Though you entered the correct Username and Password after visiting the official site at unifiedportal-mem.epfindia.gov.in, you may face the error.
Though the particular reason for such error is not known, you can fix the issue and successfully log in to check your EPF balance.
Steps to Fix UAN password not Available Error
Step 1: Visit Universal Account Number (UAN) Member e-Sewa Login Page https://unifiedportal-mem.epfindia.gov.in/memberinterface/. Enter the UAN Number in the provided box and click on 'Forgot Password' link.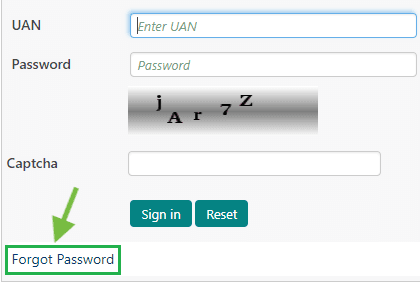 Step 2: Now, you have to enter the UAN in the provided box. Enter the Captcha after entering the UAN and click on 'Submit' button.

Step 3: After providing the necessary details, you will get directed to a new page where you need to confirm the UAN and the registered mobile number.
Click on 'Yes' button to receive the OTP on the mobile number.

Step 4: You will receive OTP on your registered mobile number to reset the password replacing the existing password.
Submit the received OTP for verification purpose. After successful verification, you can enter the New Password and Submit.

After successful submission, go back to the passbook page and provide the UAN number and the new password and click on Log In.
Following the simple steps, you can skip the error and successfully check the EPF Balance. You can repeat the same method if you come across the same error again the next time!